We have been using and testing a few Dji products in the past, and we've always been more than happy about the quality, durability and performances of their products.
The Mavic Pro has been a fantastic travel companion, very portable and reliable, and able to produce fantastic footage, such as in this video here below.
//show.dji.com/videos/Mzc1MTIwODE0NjoxVy1hY0tyWA==/embed
Now, Dji has come out with a new update version of the Mavic, actually, with a complete new one, it's called the MAVIC AIR  
That doesn't mean that the MAVIC PRO isn't good anymore, it's still a great product and the price is still very competitive.
You can even get the MAVIC PRO ALPINE WHITE COMBO and it's an awesome bundle deal at the moment.
The Mavic Pro has been out for a while now, so people have been able to use it and test it to it's full potential, however those few who have complained about their user experience, were often making mistakes in the way they were operating it.
If you are a MAVIC PRO owner, or if you're thinking of becoming one, here are a few tips to avoid the 10 COMMON MISTAKES MAVIC PRO PILOTS MAKE
Anyway, with the release of the new MAVIC AIR, Dji realised the most portable Dji Drone to house a 3-axis mechanical gimbal with it's angular vibration range reduced to 0.005 degrees. Set in a triangular formation, gimbal dampeners help create even steadier shots.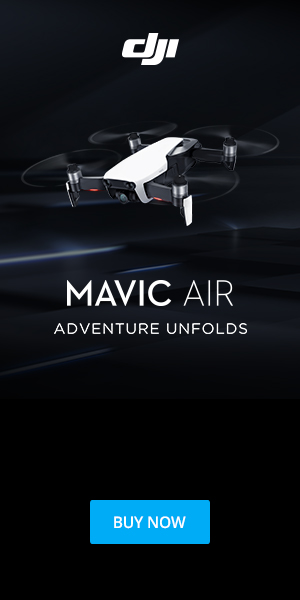 The Mavic Air's onboard camera integrates a 1/2.3″ 12-megapixel sensor and and f/2.8 lens with a35mm equivqlent focal lengthof 24mm to shoot high quality photos and videos.
Plus, in addition to Horizontal, Vertical and 180degrees panoramas, the MAVIC AIR stitches 25 photos together in just eight seconds to create crystal clear 32-MP "sphere panoramas".
4K 100 MBps to capture every second with UHD quality.
SLOW MOTION VIDEO: with support for recording 1080p @ 120fps slow motion video, the MAVIC AIR captures all you epic high-speed adventures.
HDR PHOTOS: New HDR algorithms help you obtain the right exposure settings intelligently, according to lighting conditions. Overexposed and dark areas are processed for more natural transitions between highlights and shadows.
8GB INTERNAL STORAGE: In addition to a Micro SD card slot, 8 GB of internal storage let you save photos and videos directly to the aircraft and export files through it's USB 3.0 Type-C port.
The geometric elegance, with the arms folding flush against it's aerodynamic chassis, the 7 onboard cameras for obstacles avoidance, a fantastic foldable design, with a foldable remote control, make this Mavic Air becoming your best travel photography companion.
We'll be posting an outdoor test and operational review of it, so.. STAY TUNED!
Thank you for passing by and for reading this post, you're welcome to SUBSCRIBE TO THIS BLOG or to the Fabulous Sport Outdoors Youtube Channel and remember to..
GET OUT MORE  as it's..
FABULOUS OUTDOORS!